Gazpacho is one of those wonderful soups that have a little bit of a lot of vegetables. After such a long silence this blog will have a little bit of a lot.
So, first into the stew:
At ALA–along with the treasure of time with long time friends–I was happily surprised to run into Beth Krommes, Caldecott winner in 2009 for The House in the Night (written by Susan Marie Swanson). Before she was an official "winner" she winningly illustrated The Lamp, the Ice, and the Boat Called Fish. It was a treat to see her because I had just re-read our book, after a few years away from it. I was glad to able to tell her in person how much I still love the illustrations. She captures so well the warmth of family in a physically cold place.
Then a couple of cups of Hamline University's Low Residency MFA, where I was just a visitor for a couple of days–but enough time to eat raspberries in Phyllis Root's garden; hear Franny Billingsley's wonderful lecture, in which she said, "Voice is tied to plot. If your character wants something, it will bleed onto the page as voice;" hear Marsha Qualey follow that up with, "Power + Belonging = Identity." She went on to say that "power" and "belonging" features that we give our characters can also be the features that are changed or disrupted and so move our plots along. And of course, there was time with students.
A good trip, in spite of the little traffic ticket that arrived in our mail a couple of days ago.
Spice it up with the fun of meeting with a bunch of kids at reading camp–audience. They were lively, interested readers who had spent four days talking about and thinking about Snowflake Bentley — even come up with pages of questions.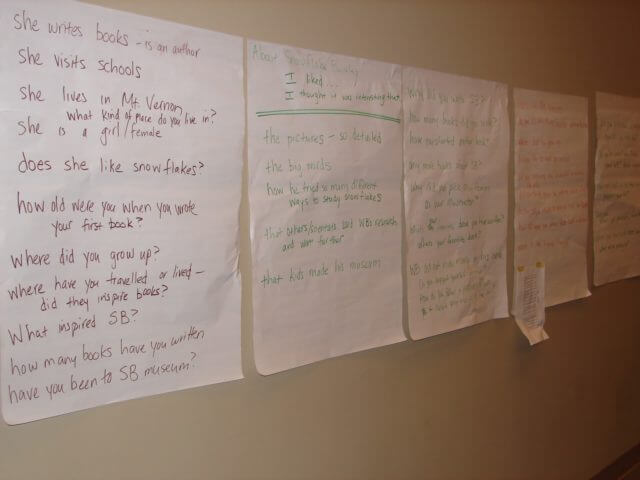 And thinking about maybe doing writing and/or drawing themselves. We talked a lot about where writers get ideas–and how they often have to write it wrong before they write it right.
I left that group inspired by the resilience of children, the generosity of adults who read with them, and the power of books to connect us all.