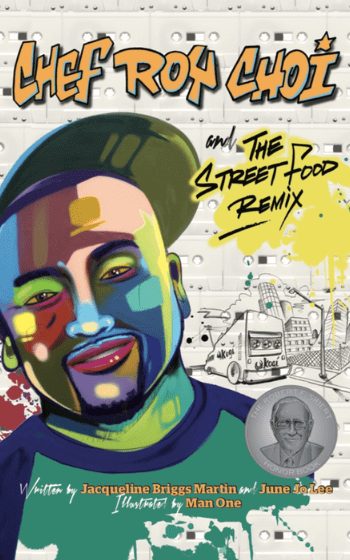 Publisher:

Readers to Eaters

ISBN:

978-0983661597

Published:

May 1, 2017
Buy @  Prairie Lights Books
Buy @  Next Page Books
Buy @  Better World Books
Co-written with June Jo Lee
Illustrated by Man One
Readers to Eaters, 2017
Find @ Your Public Library
About the Book
From the publisher:
Chef Roy Choi calls himself a "street cook."
He wants outsiders, low-riders,
kids, teens, shufflers and skateboarders,
to have food cooked with care, with love,
with sohn maash.
"Sohn maash" is the flavors in our fingertips. It is the love and cooking talent that Korean mothers and grandmothers mix into their handmade foods. For Chef Roy Choi, food means love. It also means culture, not only of Korea where he was born, but the many cultures that make up the streets of Los Angeles, where he was raised.
So remixing food from the streets, just like good music — and serving it up from a truck — is true to L.A. food culture. People smiled and talked as they waited in line. Won't you join him as he makes good food smiles?
Jacqueline Briggs Martin, author of the Caldecott Medal winner, Snowflake Bentley as well as Farmer Will Allen and the Growing Table, and Alice Waters and the Trip to Delicious continues her Food Heroes series with Chef Roy Choi on people who change what and how we eat. Together with food ethnographer June Jo Lee and internationally renowned graffiti artist Man One, they bring an exuberant celebration of street food and street art.
Video Interview About The Book
Video from the Texas Bluebonnet Award YouTube channel:
Awards
Robert F. Sibert Honor for the Most Distinguished Informational Book 2018
The Robert F. Sibert Informational Book Medal is awarded annually to the author(s) and illustrator(s) of the most distinguished informational book published in English during the preceding year. The award is named in honor of Robert F. Sibert, the long-time President of Bound to Stay Bound Books, Inc. of Jacksonville, Illinois. ALSC administers the award.
Notable Children's Book 2018, American Library Association.
Chef Roy Choi named by the National Council for the Social Studies and the Children's Book Council on the 2018 list of exceptional books appropriate for use in the social studies classroom. NCSS and CBC list here
Orbis Pictus Award Honor Book for Outstanding Nonfiction 2018, National Council of Teachers of English (NCTE)
Texas Bluebonnet Award master list 2018-2019
Rhode Island Children's Book Award Nominee 2019
Junior Library Guild Selection
"CCBC Choices" Cooperative Children's Book Center
Curriculum
Read other books in Martin's Food Heroes series:
Learn more about Roy Choi — start with some of these sources.

Read Chef Roy Choi and the Street Remix. Make a list of the facts you know about Roy Choi and compare the facts with the information contained in other articles (see above) about Chef Roy Choi. Discuss how Martin and Lee use language toprovide information while writing poetically.

Celebrate Chef Roy Choi's birthday (February 24) – 

Chef Roy was born in Seoul Korea on this day in 1970, and 2 years later was carried on his mother's back across an ocean to the United States where the family settled in Los Angeles, with the hopes of a new life.
Excerpt
Roy saw that Kogi food was like good music,
bringing people together and making smiles.

Strangers talked and laughed as they waited in line
Koreans with Latinos, kids with elders,
taggers with geeks.

Roy found his place, back on the streets
feeding hungry people, cooking up joy.
He was home–living. He had found his best good time.

Kogi tacos made Roy famous.
Kogi trucks showed people that fresh food, full of flavor,
chopped, mixed, and seasoned by hand,
didn't need fancy restaurants.

Roy wanted to feed more people in his city.
He built cheerful food spots in worn out neighborhoods places.

He taught kids to make and sell their own tasty treats.
But that wasn't enough.
He called on his chef friends to start cooking for everyone,
"Let's feed those we aren't reaching."

— from Chef Roy Choi and the Street Food Remix
Reviews
– Starred Review –
In clipped verse that draws on the rhythms of hip hop, the authors [Jacqueline Briggs Martin and June Jo Lee] follow Roy Choi from the launch of his Kogi food trucks to his efforts to 'feed good food, create worthy jobs, and bring smiles' to 'hungry' parts of the city. Man One's layered, graffiti-style artwork mimics the narrative's energy and Choi's commitment to 'cooking for everyone.'
— Publishers Weekly
Spicy, sweet, colorful, tangy — all the words that authors Martin and Lee use to describe Roy Choi's Korean Mexican cuisine apply just as accurately to the book they've created along with L.A. street artist Man One… If you're not hungry already, this savory array of sizzling words and art will make your mouth water. VERDICT This excellent picture book biography about an inventive chef doing good belongs on all shelves.
— School Library Journal
…when a picture book biography is done, and done well, there's only one word for it: magic! And Chef Roy Choi and the Street Food Remi taps into that magic space very well. Very well indeed.
— Elizabeth Bird, Review of the Day: Chef Roy Choi and the Street Food Remix by Jacqueline Briggs Martin and June Jo Lee, School Library Journal blog.
Breezy text and lively illustrations invite young readers and cooks into the world of the food revolution happening across the country… Man One's graffiti-art style is the perfect complement to Choi's cooking and the lively LA street scene… A vibrant, life-affirming tribute to a chef and his city.
— Kirkus Reviews
This is one of the most exciting picture book biographies of the year. Come for the ramen endpapers. Stay for the killer story and art.
— Betsy Bird, Fuse #8 Production blog, School Library Journal