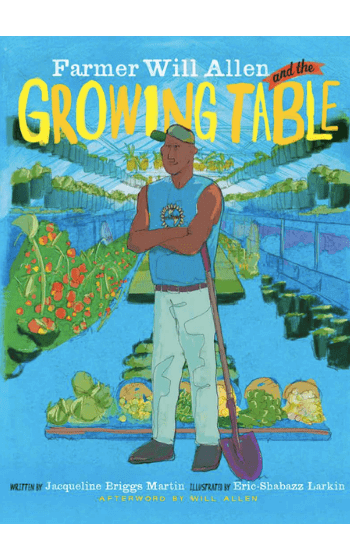 Publisher:

Readers to Eaters

ISBN:

978-0983661535

Published:

January 1, 2013
Buy @  Prairie Lights Books
Buy @  Next Page Books
Buy @  Better World Books
Illustrated by Eric Shabazz Larkin
Readers to Eaters, 2013
Find @ Your Public Library
About the Book
From the publisher:
Will Allen is no ordinary farmer. A former basketball star, he's as tall as his truck, and he can hold a cabbage, or a basketball, in one hand. But what is most special about Farmer Will is that he can see what others can't see. When he looked at an abandoned city lot he saw a huge table, big enough to feed the whole world. No space, no problem. Poor soil, there's a solution. Need help, found it. Farmer Will is a genius in solving problems. In 2008, the MacArthur Foundation named him one.
Jacqueline Briggs Martin, author of the Caldecott winner, Snowflake Bentley, tells the inspiring story of an innovator, educator, and community builder. Combined with artist Eric Larkin's striking artwork, readers will share Will Allen's optimism and determination to bring good food to every table.
Awards
The Association of Children's Librarians of Northern California named Farmer Will Allen and the Growing Table among its "2013 Distinguished Books."
Farmer Will Allen and the Growing Table was named to the School Library Journal's Best Books 2013 Nonfiction, the 2014 ALA Notable Children's Book and the Louisiana Young Readers Choice Award List!
Included in the list for Food Tank "15 Books for Future Foodies."
The New York Public Library has selected the book among its 2013 100 Books for Reading & Sharing.
From the Wisconsin Center for the Book
The Wisconsin Center for the Book is proud to announce its selection of Farmer Will Allen and the Growing Table by Jacqueline Briggs Martin, illustrated by Eric Larkin, as the State of Wisconsin's choice for the National Book Festival to be held in Washington, D.C. in late August (2014). It will be prominently featured among many other books with Wisconsin connections in the exhibit of the Wisconsin Center for the Book, an affiliate of the Center for the Book of the Library of Congress. It is an inspiring illustrated book for children about Will Allen, an incredibly resourceful urban gardener in Milwaukee.
From the Iowa Center for the Book
Farmer Will Allen and the Growing Table by Jacqueline Briggs Martin is #Iowa's winning selection by the Iowa Center for the Book for the 2014 #NationalBookFestival's brochure Discover Great Places Through Reading.
Curriculum
Jackie talks about writing Farmer Will Allen and the Growing Table with the Children's Literature Network: Reading Ahead Journal: Jacqueline Briggs Martin
Farmer Will Allen and the Growing Table is a picture book biography. Locate other titles that are biographies about a person who has a passion.
A great article from Reading Today Online – "Book Reviews: Savoring the Bounty of Gardens and Good Food"
Read other books about gardens and gardening, here are a few to get you started.

White House Kitchen Garden and How It Grew by Robbin Gourley
Flower Garden by Eve Bunting with illustrations by Kathryn Hewitt (Voyager, 2000)
City Green by DyAnne DiSalvo-Ryan (HarperCollins, 1994)
Reviews
– Starred Review –
Martin's spare, purposeful language covers a great deal of territory, and a large time frame, …. The illustrations represent diverse individuals working together and enjoying the bounty of their labor. An amiable note from Will Allen concludes, as well as a list of resources to help kids start their own gardens.
– Booklist
This picture book biography is a visual feast that invites everyone to its community table. Librarians and teachers in Wisconsin should be particularly interested in adding this to their collection, but it will hold interest in urban and farming areas across the country.
– Children's librarian Tasha Saecker. Read the entire review.
Readers to Eaters' new book, Farmer Will Allen and the Growing Table, shows how a one man — a big, passionate, and determined man — started his own good food revolution when he took an empty city lot and turned it into an urban farm. Told in a language that middle-schoolers will appreciate…
– Good Food World. Read the entire review.
An inspiring non-fiction picturebook from the author of Snowflake Bentley, this book moves fresh produce from the farm to the city and then straight into the home or classroom.
– Reading Online. read the entire review.
Martin's verse text, laced with word bursts in ebullient display type, engages both readers and listeners. In his picture-book debut, Larkin provides mixed-media cityscapes that, eventually, brim with the fruits of Allen's labor and match Will's exuberance and spirit of community.
From the small press Readers To Eaters, this worthy collaboration reveals how one man's vision of food for all has inspired an amazing life of service.
– Kirkus Reviews
Rating: Outstanding. Will Allen deserves this compelling biography so aptly rendered by author Jacqueline Briggs Martin and illustrator Eric-Shabazz Larkin's ink and pen artistry …. Readers To Eaters Books has another winning title on their hands.
– Bayviews, Association of Children's Librarians of Northern California
An inspiring non-fiction picturebook…
– Reading Today, International Reading Association
It's a different Allen we meet in richly illustrated Farmer Will Allen and the Growing Table…. Jacqueline Briggs Martin gives kids a role model who turns an abandoned lot into greenhouses and a cabbage into a garden that feeds a community.
– Milwaukee Magazine
The text is clear, concise, informative and lively. The illustrations expand upon the text and just naturally seem to draw in the reader. It is ideal for the emerging reader, the older reluctant reader, and also for a middle school or high school classroom or community group discussion of urban farming, community cooperation, and role models. Both text and illustrations encourage discussion. Every time I open this book, I see and read more and more.
– Children's Literature Comprehensive Database
Farmer Will Allen and the Growing Table beautifully captures his ambitious belief in growing the next generation of alternative farmers, good eaters, and community self-reliance. This book is an ideal companion for school garden educators ….
– Richard McCarthy, Executive Director, Slow Food USA
Farmer Will Allen and the Growing Table is an inspirational story that highlights the importance of healthy, homegrown food and the importance of civic engagement….
– Mayor Tom Barrett, Milwaukee