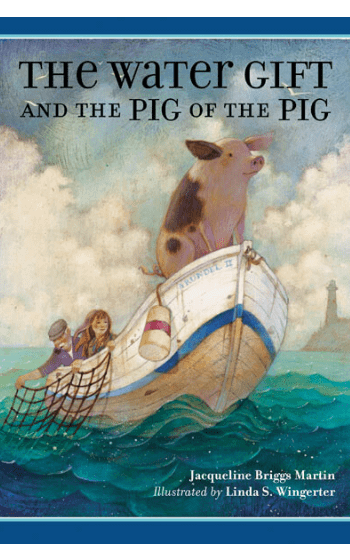 Publisher:

Houghton Mifflin

ISBN:

9780547772868

Published:

April 24, 2003
Buy @  Prairie Lights Books
Buy @  Next Page Books
Buy @  Better World Books
Illustrated by Linda Wingerter
Houghton Mifflin, 2003
Find @ Your Public Library
About the Book
From the front book flap:
Radiant elegantly textured illustrations capture the very heart of this unusual story about a divining rod, a beloved pig, and a quiet girl named Isabel with gifts of her own to uncover. Together, word and image reveal that there is indeed much more to this world than what we see.
For many centuries there have been those, including children, who could locate underground water (and sometimes gold or silver, or lost people or animals) by walking across the ground holding a Y-shaped branch. The long end of the branch is called a "divining rod," sometimes a "dowsing stick."
No one knows how this works, or why it works for some and not others. For those who love the mysteries of this world, the water gift is a source of wonder and delight.
An Excerpt
The book begins:
My grandfather is a water man.
He went to sea on a sailing ship when he was ten years old.
He was captain of the big schooner Arundel when he was twenty-five.
But he left the ship and left the sea to marry my grandmother.
… Grandfather doesn't know how he finds the water.
He just knows the stick turns down and can't be stopped. It's a mystery. Grandfather says it's the whole earth talking.
Curriculum
Cooking with Apples
Apple Pie
In The Water Gift and the Pig of the Pig Isabel's Grandmother makes apple pies with the apples which their friend Lovejoy gave them. My mother, who has lived in Maine all her life, once worked with some friends to make one hundred apple pies for the Governor of Maine to share with guests.
This is my mother's apple pie recipe. Perhaps you would like to try it. (Children should work with adults on this recipe.)
Pie Crust for a two-crust pie
2 cups flour
2/3 cup vegetable shortening
1/2 tsp. Salt
Instructions:
Stir together flour and salt.
Cut shortening into flour/salt with two knives or a pastry blender
Quickly stir in with a fork about 6 tablespoons of ice water (enough water so pastry holds together but is not too sticky
Form half of pastry into a ball and place on a floured work surface or pastry cloth. Press to flatten slightly. Sprinkle flour on top of pastry and roll out with a floured rolling pin. Roll from center to edges. If pastry tears it can be repaired by brushing ice water on the torn edges and pressing them together. Roll until pastry is about three inches larger than pie plate.
Carefully fold pastry in half and set in pie plate. Unfold and gently press into pie plate. There should be enough to hang over the edge of the pie plate.
Filling
Peel and core six good-sized apples.
Slice into a bowl.
Mix together in another bowl.
3/4 to 1 cup sugar
1 tsp. cinnamon
a dash of nutmeg
2 tablespoons flour
Pour over apple slices.
Place apple-sugar mixture in pie crust.
Top crust:
Roll out the other half of the pie crust. Measure to be sure it is larger than pie plate.
Dot the pie crust with shortening or soft margarine or butter. Lightly smear dots over pie crust. Sprinkle 2 tablespoons flour over pie crust and pat with fingers to blend with shortening.
Dribble about 2 tablespoons milk over the flour-shortening mixture and mix with fingers.
Make a slash in the pie crust so steam can escape while pie is cooking.
Put pie crust on top of filling and trim so that it hangs over the edge of the pie plate by an inch all around.
Tuck the overhanging crust under the bottom crust.
Seal by pressing with the tines of a fork all around the edge.
Bake in a 375 degree oven for about 45 minutes, or until filling can be seen bubbling through the cut in the pie crust.
One-crust apple pie
If you don't want to go to the trouble of putting on the top crust you can make a wonderful apple pie that has only one crust. Instead of the top crust put a crumb filling on.
Mix together with a fork.
1/2 cup oatmeal
1/2 cup flour
4 tablespoons butter
1/3 cup sugar
1/2 tsp. Cinnamon
Pour over pie and bake
Reviews
– Starred Review –
As usual, Martin brings a grave wonderment to her storytelling, enlivening her dreamy tone with details of quietly brilliant originality and infusing her understated text with sympathetic emotion . . . As story of family, as story of bad luck surmounted, as a quietly effecting pig tale, and more, this is a nuanced and satisfying production.
— Bulletin

– Starred Review –
This poignant story of the magical gift a girl shares with her grandfather is a gem . . . Martin's magnificent prose will draw the audience in and keep them there. Wingerter's acrylic illustrations are swathed in soothing, subdued blues, greens, and tans — the tranquil tones follow the story's gently sloping mood.
— Kirkus Reviews

The book is a great read-aloud from kindergarten on up. Do allow time to relish such phrases as Grandmother's "determination hat," the villain who was so mean he "wouldn't give away the good smell from a piece of warm toast," and to enjoy the illustrations that fit the mood of this right on tale.
— Carol Hurst's Children's Literature Newsletter, Volume 8, Number 4. Read the full review here

Martin elegantly unfurls a story filled with memorable characters and colorful details, as well as comforting images of loyalty and familial ties. Wingerter's lushly textured acrylic paintings set an almost timeless mood, striking a balance between folk art and nods to some of the American masters. This little piggy will likely be a storytime favorite.
— Publishers Weekly

Real-life magic is quite at home in Martin's magical text, rich with images and the slow cadence of yesteryear. Wingerter matches the nostalgic feel with her acrylics in an antique palette, showing a coastal idyll of farm and sea, simple figures in a naive folk-art style standing out against the misty landscape.
— Horn Book