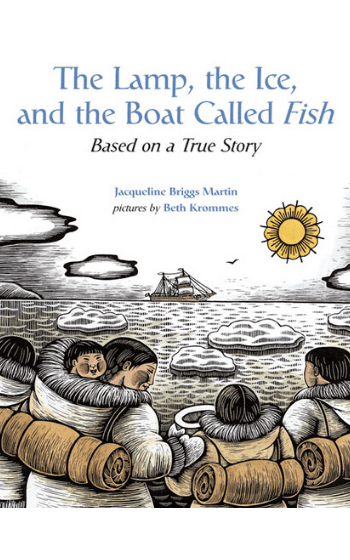 Publisher:

Houghton Mifflin

ISBN:

0-618-00341-X

Published:

December 1, 2001
Buy @  Prairie Lights Books
Buy @  Next Page Books
Buy @  Better World Books
Illustrated by Beth Krommes
Houghton Mifflin, 2001
Find @ Your Public Library
Based on a True Story
(From the front book flap) "In 1913, a boat called Fish, part of the Canadian Arctic Expedition, became stuck in the Arctic ice. On board were a captain and crew, scientists and explorers, a cat, forty sled dogs, Inupiaq hunters, and an Inupaiq family with two small girls.
Even with the Inupiat and their skills of hunting and sewing, even with the family's care and wisdom, even with the compassion and courage of their captain, odds for survival in the cold dark Arctic seem against the passengers of the Karluk.
Here is a riveting, unforgettable story, poetically told and exquisitely illustrated with rounded scratchboard art that captures the strength and grace of Inupiaq culture. Details of centuries-old crafts and skills — of sewing boots from caribou legs and ugruk skin, of quickly cutting snow houses, of wearing wooden goggles to ward off snow blindness — will enrich modern imaginations.
And by the story's end, listeners will know something of the way of life in the high north, something of the song of the place, the wide sky, the sound of the wind, the ptarmigan."
Read about the artist's method for illustration on her website at www.bethkrommes.com.
Awards
The SCBWI 2001 Golden Kite Award in Picture Book Illustration
ALA Notable Book, a Bulletin Blue Ribbon Award
CCBC Sibert Award Honor Book
Notable Social Studies Trade Book for Young People
Riverbank Review Book of Distinction Finalist
Smithsonian Magazine's Notable Books for Children 2001
The Bologna 2001 Children's Book Fair Illustrator's Exhibition
Curriculum
References for older readers:
Nivens, Jennifer. The Ice Master. (2000) Hyperion. 416 pages. ISBN: 0-7868-6529-6.
McKinley, William Laird. The Last Voyage of the Karluk: A Survivor's Memoir (1999, reissue) Griffin Trade/St. Martin's Griffin Press. ISBN 0-312-20655-0 . 168 pages.
Different writers treat the same story in different ways. Eric Walters wrote about the Karluk in a young adult novel, Trapped in Ice but changed many of the details. For example, in his fictionalized account he changed the age of Pagnasuk, left out Makpii and invented a brother, and did not include Kuralluk in the story at all. He added several fictional characters to his account of the 1913 Canadian Arctic Expedition.
Walters, Eric. Trapped in Ice(1997) Viking. Check here for a review in CM Magazine, Vol. 14, No. 16 (April 10, 1998).
Older readers might research information about the Karluk Expedition by reading McKinley's account, and compare the actual events to those retold in The Lamp, the Ice, and a Boat called Fish and those events recorded in Walters fictionalized account and in Jennifer Nivens's The Ice Master
Some notes related to the Karluk Expedition:
Reviews
– Starred Review –
Stylized scratchboard illustrations in soft beige, brown, gold, blue, and green tones add an emotional charge to this well-researched story of an Eskimo woman, her husband and children who, in 1913, found themsleves aboard a Canadian Arctic Expedition ship, The Karluk. … Excellent for multicultural studies or a theme dealing with the Arctic or survival.
— Library Talk , September/October 2001.
Martin includes details that will fascinate kids (Inupiaq sunglasses–how cool!). The quiet, intriguing language, with a poet's attention to sound, will lull young ones into the story's drama, as will Beth Krommes' captivating scratchboard illustrations, suggestive of Lois Lenski's work in their rounded shapes and bold lines. With its picture-book format and well-paced chapters, this is a great choice for primary classroom read-alouds.
— Booklist
Told with clarity, grace, and the scrupulous use of such words as perhaps and I think, the book includes a brief bibliography, a map (appearing, unfortunately, only on the back of the book), photographs of the survivors, and a list of those who set out and what became of them (Makpii's daughter was among those interviewed).

Beth Krommes's scratchboard art is outstanding. Ice, artifacts, and characters are delineated in handsome black, softened with crosshatching and a limited palette that ranges from sealskin brown to ice blue; sweeps of white space pull readers into windswept vistas or set off cozy iglu interiors. Art, narration, and information are all perfectly integrated in a story that makes a fine introduction to arctic exploration.
— Horn Book
In The Lamp, the Ice, and the Boat Called Fish, Jacqueline Briggs Martin weaves information about Arctic wildlife, habitat, and the Inupiat people into a suspenseful and interesting tale of survival, based on the true story of the Karluk shipwreck.
— Online Librarian
There is great respect in Jacqueline Briggs Martin's picture book The Lamp, the Ice, and the Boat Called Fish (Houghton Mifflin, 2001) –respect for the Inupiat people and their culture, respect for science and respect for the Arctic and its dangers. Based on a true story, with wonderful scratchboard illustrations by Beth Krommes, the book tells of an Arctic expedition in 1913. We begin and end the story with a seal-oil lamp, the symbol of the Inupiats rich heritage. The voyage is undertaken by a Canadian crew of scientists who set out to explore the Arctic. Fortunately, they take aboard some Inupiat hunters and an indigenous family with two small girls.

Martin's text for this thrilling adventure is spare and poetic. The illustrations perfectly echo the text and the designs of the far north. This book belongs in any study of the Arctic, of native peoples, of exploration and discovery and of bravery and tradition.
— "Into the Unknown" by Carol Otis Hurst, Teaching PreK-8, Aug/Sep 2001, Vol. 32, Issue 1.
Notes
Illustrator Beth Krommes received a 2002 Golden Kite Award for Illustration for her work on this book. The Lamp, the Ice, and the Boat Called Fish: Based on a True Story. Illustrated by Beth Krommes. Houghton Mifflin, 2001. ISBN 0-618-00341-X.