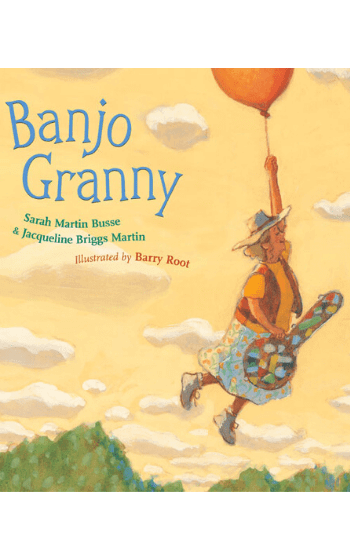 Publisher:

Houghton Mifflin

ISBN:

9780547767178

Published:

November 13, 2006
Buy @  Prairie Lights Books
Buy @  Next Page Books
Buy @  Better World Books
Co-Written by Sarah Busse
Illustrated by Barry Root
Houghton Mifflin, 2006
Find @ Your Public Library
About the Book
From the publisher:
Granny's heart is set to see her new grandbaby, but how can she ford a fast river, climb a steep mountain, and cross a wide desert? With a dose of determination, a well-stocked banjo case, and the charm of a simple bluegrass song — that's how! Part tall tale, part lullaby, this rhythmic story, illustrated with warm pastoral paintings, celebrates the meeting of grandmothers and grandbabies everywhere.
Curriculum
Read John's Bluegrass blog entry (6.08.09) focused on Banjo Granny.
Learn more about blue grass music and the father of blue grass by learning about Bill Monroe
Granny is actually traveling from her home in Iowa to Owen's home in the San Francisco Bay Area in California.  Use a USA map to chart Banjo Granny's journey to see Owen.  What is the  river she crossed? The mountains? The desert?
Reviews
– Starred Review –
This mother-daughter team's debut collaboration opens with  the lyrics and music of "Owen's Song," a bluegrass ode that sets the tone for this lighthearted and endearing tale. … when his granny finally reaches Owen's house, their hug feels like a culmination. With its heartwarming message and visuals, this is a celebration of the bond between grandparent and child.
— Publisher's Weekly
– Starred Review –
This modern tall tale, told with a finely tuned bluegrass twang, is a fresh and lively paean to inter-generational love. When Owen's granny learns that he goes wiggly, jiggly,/all-around giggly,/and tip over tumble/for bluegrass music, she packs up her banjo, puts on her thousand-mile shoes, and heads out on foot for a visit…. This is an up-to-date story with family members separated by distance and a dynamic grandmother with vim and vigor. However, the narrative's cadence and traditional structure make the tale feel timeless.
— School Library Journal
When Owen's distant Granny hears that he's a baby who goes "wiggly, jiggly, all-around giggly, and tip over tumble for bluegrass music," she just has to pack up her banjo and go dance with him. This is the tale of her journey, which is just as much fun as the music.
— Kirkus Reviews
Part lullaby and part tall tale, this warm picture book is both cozy and exciting…The bright, sunny art connects the quiet inside scenes with the wild outdoor ones, and the rhythmic text is exactly right for the lapsit crowd, who will chant and act out the story again and again.
— Booklist; ALA
Granny's heart is set to see her new grandbaby, but how can she ford a fast river, climb a steep mountain, and cross a wide desert? With a dose of determination, a well-stocked banjo case, and the charm of a simple blue-grass song–that's how! Part tall tale, part lullaby, this rhythmic story, illustrated with warm pastoral paintings, celebrates the meeting of grandmothers and grandbabies everywhere. A wonderful picture book begging to be read, even for old time clawhammer banjo-playing Grandmothers!
— from www.morningstarfolkarts.com/
Owen's Granny travels across river, mountain, and desert with the help of a somewhat magical banjo, just to see and play bluegrass for her grandson.  Watercolor, gouache, and pastel pictures are somewhat impressionistic with wonderful uses of light.  … the power of a grandparent's love and the magic that creates for a young child.
— from fieldguidetoparenting.info